PRESENT
THE E-NEWS
http://www.bbbautism.com/about_bbb.htm
VOLUME 8; ISSUE 3 July 30, 2003
Restraint
I hope everyone is enjoying their summer!
After a short vacation, the E-News is back again with a very serious subject: restraint.
Not knowing enough about this topic personally, I am gratefully handing the reigns over to Ed Mahony as guest editor for this issue. The following article has been used with his permission.
I hope you find this edition of our E-news informative.
Sincerely,
Liz
<![if !vml]>
<![endif]>Founder/Manager
BBB Autism Support Network
Her behaviour worsened…two care workers forced her on her stomach and placed a bean bag on her back. One knelt on her shoulder blades, the other held down her legs. After 20 minutes of being restrained Stephanie suddenly went motionless and stopped breathing. Stephanie was rushed to Sick Children's Hospital in Toronto. Three days later she died.
W-5 segment "Restraining Stephanie" CTV, Fri, Feb 22, 2002
Physical Restraint is a little spoken of yet all too serious reality in Ontario schools. Often euphemistically called Physical Intervention, restraint is the use of force to limit an individual's movement. It is permitted in virtually every educational jurisdiction as a means to protect an acting out student and those around him when they pose a direct and immediate serious threat. Unfortunately, the use of outdated and dangerous restraints can result in injury and even death.
In 1998 a 13 year old, Stephanie Jobin, died as a result of being restrained in a Toronto area group home. In 2001, 13- year- old William Edgar also died as a result of being held on the floor on his stomach by group home staff. Both children had special needs. In fact, the vast majority of physical restraint used in schools involves students with such special needs as Autism, Tourette syndrome or other disorders. The circumstances surrounding the deaths of these two children can teach us life saving lessons.
Prone, or floor restraints place an individual on their chest on the floor and hold them by applying pressure in some way. They are cited by experts as dangerous. Steve Darby, a special needs crisis prevention consultant, explains that placing force on a person's chest hinders breathing. "Try lying on your stomach and lift your arms off the ground as high as you can. Now try to talk. Imagine how hard it would be to breathe if considerable force was placed on your back." The prone position restricts the muscles that control the lungs and in an extreme situation places considerable stress on the heart's ability to function.
The coroner's inquests into the deaths of both Stephanie Jobin and William Edgar discourage against the use of prone restraints. The Crisis Prevention Institute, the providers of the training program Non -Violent Crisis Intervention used by school boards throughout the province also warns against the use of prone restraints, agreeing that they interfere with one's ability to breath. Yet there is at present no consistent provincial prohibition against such dangerous practices in schools. Steve Darby warns that unsafe methods are still used. "My travels teaching crisis prevention throughout the province have taught me that Ontario schools are a patchwork of good and bad practices." Though the vast majority of programs employ the most up-to-date crisis prevention/management methods, he admits that he frequently confronts unsafe situations. "Children are in grave danger when such strategies are used."
A further concern is the use of what can best be termed improvised mechanical restraints in classrooms. An improvised mechanical restraint could range from the use of a belt to prevent a child from exiting from a chair to the misuse of Velcro straps on wheelchairs originally designed to help children with physical disabilities such as cerebral palsy. The motives for using such devices are often positive. Staff might employ a mechanical restraint, for instance, to prevent a child from striking themselves in frustration or from leaving a classroom... Whatever the motive, however, such improvised devices are not supported by any approved crisis management course and are dangerous. A major factor in Stephanie Jobin's death, for example, is the use a beanbag chair as a restraint tool.
The best way to keep everyone safe is to understand that no form of physical restraint is completely "safe." Dr. Ann McGlone-Rankin, Special Education Department Head at St. Mary's Catholic Secondary School in Hamilton stresses what she believes is essential to limit the use of restraint. "We know that all restraint, even when necessary, is risky. Confronted by a difficult situation we always ask ourselves the question "Is this situation so serious that I am willing to risk the safety of a student by attempting to use restraint?" Almost always, the answer is no." Dr. McGlone adds that by modifying elements in a student's environment, her staff is able to almost always avoid the need for restraint altogether. In the unfortunate event that some form of physical intervention is required, it is also essential that staff is adequately trained in approved crisis prevention and management methods that maximize safety and focus on least intrusive methods.
Dave Sadonoja, an educational assistant and manager of a high need autism summer respite program adds, "When we work with a child with challenging behaviours we ask ourselves, "what would we have to modify in this student's day to avoid physical crisis?'
Then, what ever it is, we do it." He stresses that the ever-present dangers associated with crisis behaviour and restraint demands that staff be very flexible with programming. "To the extent the crisis behaviour is an issue absolutely no part of the child's environment is exempt from change."
The death of children with special needs like Stephanie is a tragedy. However, by using her unfortunate death as a call to educate everyone on the dangers of restraint, we can reduce the possibility that there will be future restraint related tragedies.
Is a Special Education Resource Teacher for the Hamilton District Catholic School Board and an associate instructor at Conestoga College. He presents to groups regarding restraint issues throughout the province. He can be reached at edmahony@alumni.uwaterloo.ca
Is a crisis prevention consultant and Teaches "Rethinking Restraint" a crisis prevention program focusing on individuals and other special needs. He can be reached at stevedarby@ exceptional-needs.ca
Dangerous Restraint Practices
| | |
| --- | --- |
| | Do not hold a student on the floor or place pressure in any way that restricts their ability to breathe |
| | Do not improvise mechanical restraints |
| | |
| --- | --- |
| | Become trained in approved Crisis Prevention Courses |
| | Imagine what you would have to do to have a crisis free day and do it |
| | Make everyone aware of the dangers of restraint |
| | Celebrate crisis free times |
| | Learn about ways to modify environments. |
| | Remember that to the extent that crisis behaviour is an issue every aspect of a student's day must be open to change. |
New Manual for Ontario Families and Professionals
<![if !vml]>

<![endif]>Autism Society Ontario is pleased to announce its latest in a series of manual/workshop combinations: Children Diagnosed with Autism: What to Expect and Where to Get Help - Strategies and Information for Ontario Families and Care Providers
Topics include:
| | |
| --- | --- |
| | An overview of ASD |
| | Getting a Diagnosis |
| | Emotions You May Feel |
| | Wait lists |
| | IBI/ABA |
| | Behaviour Management |
| | Communication |
| | Sensory Integration |
| | Going to School |
| | Therapies and Interventions |
| | Co-existing Disorders |
| | Medication |
| | Financial Resources |
| | Toilet Training |
| | And more |
There is plenty of advice from fellow parents and professionals, checklists and an extensive glossary
This 250 page manual is available for $25 (plus S & H, if applicable) through the ASO head office at 416-246-9597 order forms can be accessed through: http://www.autismsociety.on.ca/childrenorderform.pdf
Please watch out for the accompanying 8-hour workshop with compliments the manual. Workshop/manual combinations can be purchased together, or you can attend the workshop at a discount when you show your manual.
To receive information about upcoming workshops, please contact liz@deaknet.com.
Kathryn's SEAC page: http://www.bbbautism.com/york_kathryn.htm
ENEWS BITES AND…
News From ASO York Chapter
New Resource! Family Net Welcomes Lindsay Moir
Helping families through shared experiences www.familynet.on.ca . Family Net is adding an exciting new feature to assist parents to meet the educational needs of their exceptional children. Later this month, Lindsay Moir (of Comhnadh Consulting in London) will begin writing a bi-weekly column using a question and answer format. Parents are invited to email in their questions about the educational system to Family Net at ask.questions@sympatico.ca. Lindsay will answer two questions online every other week. All questions will be posted anonymously.
Meet Lindsay Moir…
Lindsay Moir retired from the Ministry of Education in 1997 and has been assisting agencies, associations and parents in obtaining appropriate special education services for exceptional pupils. In 1998 Lindsay was a validator for the Intensive Support Amount (ISA) Grant Approvals, on contract to the Ministry of Education. He is currently a contract employee of the Education Quality Accountability Office (EQAO), involved in the Grade 3, Grade 6, Grade 9 and Grade 10 assessments.
Through his consulting firm Lindsay Moir offers education services for parents. For more information, see the Comhnadh Consulting website http://www3.sympatico.ca/l.moir/">http://www3.sympatico.ca/l.moir/
Accessible and Affordable Natural and Organic Foods
A Guelph family is forming a buying club linked with the Ontario Natural Food Co-op. A buying club is a group of individuals who get together to buy directly from the wholesaler, thus saving money and getting access to quality products. May be of special interest to families following special diets.
More information email gbloomfi@uoguelph.ca
How To Join Autism Society Ontario – York Region Chapter
<![if !vml]>

<![endif]>If you would like to become a member of ASO-YRC, send your name, address and email address to asoyork@axxent.ca for a Welcome Package, or go to the provincial website http://www.autismsociety.on.ca to obtain a membership application form. Membership in ASO is $ 30.00 annually.
Learning to Live with Autism
. Learn as much as possible about Autism Spectrum Disorders
. Plan for the future
. Recognize that you will go through a roller coaster of emotions
. Develop a support system
. Seek out sources of help
. Recognize the disorder affects your child's abilities
. Recognize that caregiving can take its toll
. Explore all treatment/therapy options
. Ensure that your family and friends don't lose sight of the person that is your child
(Adapted with thanks from the Alzheimer Society Canada website: www.alzheimer.ca)
Private IBI/ABA Therapist Available
Charlene C. Crane, Tottenham. 905-936-4119. Resume and references available at the ASO York Chapter office.
Megan Nicholas, 905-830-1806 or 95-895-0038 ASK Camp counselor, various therapy centres and group homes working with children with autism.
Melissa Shlanger at Wellsprings Natural Health & Beauty Spa, 905-780-6627 (Melissa is one of our teenaged Chapter members, who has graduated from <![if !vml]>

<![endif]>high school and is now pursuing career training as an esthetician. Congratulations, Melissa! Living with ASD you have inspired us all to reach our goals.
ODSP WEBSITE AND NEW INFORMATION AVAILABLE
Ontario Disability Support Program (ODSP), is administered by the Ministry of Community and Social Services (MCSS). For over 18 years of age. Apply 6 months prior to 18th birthday.
New information is now available on their more user-friendly website:
An ODSP Handbook created to give potential clients, their family and friends, advocacy groups and community agencies a concise and easy to read guide on the application for ODSP and available benefits. The fact sheet of ODSP Employment Supports in plain language for those with lower literacy levels or learning disabilities - with more info on how to apply.
The ODSP Employment Supports application package which can be filled out on line. A complete listing of all ODSP local offices.
www.gov.on.ca/CSS/page/services/ODSP/odsp.html
To ASO York Chapter Members,
As you are aware, cyclists John Keating and Luc Vandermeeren are spending<![if !vml]>

<![endif]> their ENTIRE summer cycling across Canada to raise autism awareness and $1,000,000 for autism research. They are away from their children, families and friends ... away from their jobs -- without pay. They are doing strenuous physical work in all kinds of weather over all kinds of terrain and sleeping in a less-than-luxurious Winnebago. They are both fathers of children with autism and they are doing this out of love for their children -- in fact, they are doing this for all OUR children because they believe in our children and want a good future for them.
Cycle for Autism could be for ASD what Terry Fox was to cancer. We need to get up, get involved, and be heard. Let's help make Ontario the province that makes it all worthwhile!
The national cycle will pass through Toronto early in August, and York Region Chapter members (and their family, friends, coworkers, etc) are encouraged to attend the Metro Toronto Chapter's Beach Volleyball tournament on Friday, August 8, at Ontario Place (South Beach) to mark the occasion and raise some funds. The event will offer fun, fitness, and refreshments. If you are interested in contributing to this event or registering a team, please contact Kim Taylor at taylorcom@rogers.com. Registration is at 3:00
Volleyball from 4pm-9:30pm - Dancing until 1am. Your registration fee covers all you can eat BBQ! Visit www.asotoronto.org/events for more information Check out the Cycle website www.cycleforautism.com to find out about local events in other Ontario cities and encourage your out-of-town family and friends to get involved in their own communities.
Remember: Cycle for Autism is for all our kids, whether they're toddlers or adults.
Thank you for your support.
Regards,
Cindi Buick, President ASO York Region Chapter
Please Consider Helping with This Family Study (Ontario – GTA)
Two dissertation students from York University (Terry Diamond) and the University of Toronto (Tara Smith) are looking for families (mothers, fathers and<![if !vml]>

<![endif]> siblings) of children with autism or PDD-NOS to participate in their study examining positive and negative impacts of having a child with autism in the family. Their goal is to provide information to agencies on how families are impacted and on how they could be better supported. They are especially looking for families in which the child with autism has a brother or sister between 7-14 years of age, however some families that do not include a sibling in this age range are still needed. Parents are asked to complete some questionnaires and both parents and siblings are interviewed in the family's home. If you are interested please check out the following URL for contact information.
http://www.psych.yorku.ca/fcas/
First Ever Autism Day at the Skydome!
We are thrilled to announce the first ever Autism Day on September 7, 2003 <![if !vml]>

<![endif]>the Toronto Skydome at 1:05 pm. The Toronto Blue Jays will be hosting the Detroit Tigers. This is a family day and the bargain-rate tickets are available through the Autism Society Ontario Provincial office at up to 40% off regular ticket prices. This is not a fundraising event for ASO, and any proceeds earned through ticket sales will be directed to ASD research in Canada and to support families living with autism. We hope to wow the folks at Skydome with amazing ticket sales that show tremendous community support for these children and their families. Orlando Hudson, Blue Jays Baseball star, is thrilled about the event and hopes to be part of the pre-game activities on the field with Cycle for Autism dads Luc Vandermeeren and John Keating and their families. There is already an ad announcing the game and support for autism on the electronic billboard at Yonge and Dundas in downtown Toronto. Check it out!
Invite everyone you know to buy tickets and show support for families living with ASD. For details and to purchase tickets, please visit www.autismsociety.on.ca under the What's New? section.
Do you have your "Navigation The Special Education System in Ontario – A Handbook for Parents of Students with Autism Spectrum Disorders" Manual Yet?
Autism Society Ontario is pleased to announce the release of its 2nd edition of Navigating the Special Education System in Ontario. A Handbook for Parents of Students with Autism Spectrum Disorders. This updated edition includes more first-hand accounts, more information on Asperger's Syndrome and information on various tools that was not included in the popular manual that was released a number of years ago. The hard-cover three-ring binder is <![if !vml]>

<![endif]>approximately 200 pages long is available through ASO for $25.00/copy plus postage. Funds raised will offset the cost of printing and distribution. Thanks go to ASO's Education Committee, led by Natalie Whatley, who completed their work as a volunteer committee on this excellent project this past summer. (Copies will be available chapter meetings. Save $ 8.00 postage and handling charges ! http://www.autismsociety.on.ca/SpecEdForm.pdf
Help Develop an Emergency Template
"I am asking everyone for help on this project. Any ideas are welcome! Along with other parents, I am hoping to accomplish the following:
| | |
| --- | --- |
| | Develop a template for calling 9-1-1 should the primary caregiver be unable to make the call (attached is my draft) |
| | Register with the police so that when a 9-1-1 call is placed there is an electronic alert displayed that gives background information |
| | Register with the local hospital or crisis clinic to avoid the intake procedure when dealing with an out of control individual who has special needs and may be non verbal |
| | Find a tracking device to monitor children who regularly wander |
The most promising tracking device to date is one using Global Positioning:
http://www.wherifywireless.com/prod_watches.htm - so far, tracking devices are not widely available in Canada, or are too cumbersome for our children (or elderly Alzheimer patients) to wear.
I have messages in to every national and provincial polices services organization that I can find. I communicate regularly with Dennis Debbaudt (Police and Autism) and Marg Spoelstra (Autism Society Ontario).
Any wisdom and guidance would be appreciated!
With thanks, Nancy nancy.cherry@sympatico.ca"
"I wanted to let you know of a new website www.abaresources.com that offers many free downloads for those running an ABA program for their child, or a child they are working with. Sharon"
Building Blocks Inc. provides complete case management services for children diagnosed with Autism Spectrum Disorder. Services range from training therapists, to ABA programming, to transition into school. Building Blocks is able to work in home and school based settings. For more information, please contact Building Blocks Inc. at (416) 721 6155 or blocks@rogers.com
…currently offers ident-a-tags to families, which is a something that families find useful when they are out with their children. We have worked very hard to offer families more security and therefore have decided to provide families cards with tracking numbers on them. This would offer families the benefit of having a laminated card, with their children on them, iron on labels and stickers for cars which would all contain tracking information. We are offering it to families for $60.00 per year or $5.00 per month. Infant pictures would be replaced twice within one year to update the photo
"Finding The Way Inc. is a new organization formed to assist parents and professionals with communication tools to assist children on the ASD spectrum. We are currently located at 50 Firwood Crescent Unit 8c, Toronto, Ontario. M9B 2W2. Our website is www.findingtheway.ca or contact us via phone at 416-236-3929."
"We are a Team Chiropractic GTA centre located in Vaughan. We share the purpose of Team Chiropractic GTA to provide family wellness care to our community. Many on our team, as well as myself hold an American certification in Chiropractic Care for Children, which includes working with children with special needs. There is no referral necessary to visit any of our centres.
Many of our team see wonderful changes and improvements in our work with autistic children. As you requested, following below are some of the case studies showing the benefits of chiropractic care with autism. They are from the International Chiropractic Pediatric Association's website. www.icpa4kids.org
For more information on Team Chiropractic GTA, or to contact one of our centres visit: www.teamchiropracticgta.com
For more information on our centre in Vaughan call 905 850-0909 or visit: www.optimalspinalhealth.com
Dr. Jacqueline Tsiapalis, Family Chiropractor
Vaughan Chiropractic/Team Chiropractic GTA
8383 Weston Rd., Unit 108, Vaughan, ON Canada L4L 1A6
905 850-0909. 905 850-2552 (fax)"

Do you have an event, announcement, information or a request? Email us 50 words or less at liz@deaknet.com and we'll put it in an upcoming E-News issue. Email early to avoid disappointment! BBB Autism is not responsible for misrepresentations of persons or agencies utilizing this service. Don't forget to include an email address if needed.
To subscribe, e-mail bbbautism@deaknet.com please provide your name and location. To unsubscribe, e-mail bbbautism@deaknet.com please write 'unsubscribe' in subject line. If you think you know someone who might enjoy or benefit from these newsletters, kindly forward us their email address at bbbautism@deaknet.com
(C) 2003 BBB Autism
Archived issues (too many to list here) are available by link in HTML, plain text and PDF on our website at www.bbbautism.com/news_arch.htm
CONTAIN PRACTICAL INFORMATION BY PARENTS FOR PARENTS
AVAILABLE ONLINE: OUR BBB GUIDES IN A PLAIN TEXT FORMAT SUITABLE FOR PRINTING. FIND THEM HERE: http://www.bbbautism.com/bbb_guides_contents.htm
. Halloween
. Epsom Salts (Calcium too) – expanded version
. Epsom Salts – condensed version
. Pros and Cons of telling your ASD child his/her diagnosis
. How we advocate for our children
. Guide to holidays and large family gatherings
. Vaccine Concerns in Ontario
A notice to our readers...
The editor of this newsletter, founder of the BBB Autism support network and its volunteers (herein referred to collectively as BBB staff) are not physicians.
This newsletter may reference books and other web sites that may be of interest to the reader. The BBB staff makes no presentation or warranty with respect to the accuracy or completeness of the information contained on any of these web sites or in the books, and specifically disclaims any liability for any information contained on, or omissions from, these books or web sites. Reference to these web sites or books herein shall not be construed to be an endorsement of these web sites or books or of the information contained thereon, by the BBB Staff.
The editor/founder reserves the right to make decisions as to whether contributions are appropriate with respect to content, length, etc. We will not publish offensive material using foul language, or contributions that are inflammatory or disrespectful to decisions by or beliefs of other parents (i.e. therapies). We do not generally accept contributions if they are ads for private service agencies/clinics. We are also unable to accept contributions after an issue has been completed. We reserve the right to edit content, but will inform you in advance if we are going to do this. J All submissions to BBB Autism Support Network and any of its features (including but not limited to the E-News) become the property of BBB Autism Support Network and may be used in other publications or on our website.
(c) BBB Autism – July 2003
This E-News is the intellectual property of BBB Autism Support Network.
Permission to reproduce and hand out is granted, provided the document is displayed in its entirety. Other permissions may be requested by email: liz@deaknet.com. The purpose of this copyright is to protect your right to make free copies of this paper for your friends and colleagues, to prevent publishers from using it for commercial advantage, and to prevent ill-meaning people from altering the meaning of the document by changing or removing a few paragraphs.
The views expressed by contributors are not necessarily the views of the BBB Autism Support Network.
Products and/or services mentioned are not recommended specifically by BBB unless tried or researched by us personally. In this case they will be indicated with the "Bee's Knees Award of Excellence"! <![if !vml]>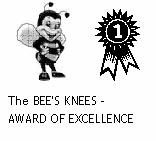 <![endif]>