YORK REGION AND GTA INFORMATION:
Please note: BBB Autism Support Network is not responsible for information found on the websites we link to. If you find a problem with one of them, please contact us at liz@deaknet.com. Thanks!
York Info Network - search for informatioin!
WHERE TO GET ASSESSMENTS (HOSPITALS AND CLINICS)
Central East Preschool Autism Services (contact Kinark) 1-888-454-6275

Thistletown Regional Centre (TRE-ADD – Treatment, Rehabilitation & Education of Autism and Developmental Delays) (416) 326-0608

North York General Hospital - Branson Division
Child and Adolescent Development Clinic
555 Finch Ave. West
Toronto, Ontario
Canada
M2R 1N5

| | |
| --- | --- |
| | Easter Seals Foundation of Ontario: Kids in the Spectrum over 3 who are still in diapers can get $400 per year toward their diapers, also helps with other assistive devices if needed. (416)421-8377 |
| | |
| | |
| | |
| | |
| | |
| | |
| | |
| | York Link - The York Region Community Service Directory is a comprehensive information resource of community service providers and related government agencies. |
| | |
| | |
| | Hiring mediators, therapists, respite workers etc? Don't know where to find them? Check out campusworklink - Canada's Biggest Job Site for Students and Recent Graduates! |
| | GTA Respite Services Directory (in PDF) |
| | York Region Community Care Access and Ontario Community Care Access |


Helping Hands Special Kids Therapy Centre
121 Queen Street South, Box 313
Tottenham, Ontario L0G 1W0
905-936-4400 1-877-534-4430

Giant Steps School (905)669-8299

New Haven Learning Centre for Children
301 Lanor, Etobicoke, ON M8W 2R1
(416)259-4445

Yes, I Can! Nursery School and Camp (416) 486-4911

School Issues? Contact Lindsay Moir, Special Education Consultant

Very cool toys for a sensory 'fidget bag' at Snap Up Toys (905)763-8075

Graduate Beginnings picture communication

Discovery Toys (416)755-5284

ParentBook Store, 201 Harbord Street, Toronto, Ontario M5S 1H6
(416) 537-8334, 1 (800) 209-9182, Fax (416) 537-9499
email parentbk@netcom.ca

Friends of Children with Autism (Lawsuits)
c/o Sheila Wildeman, Student-at-Law
Eberts, Symes, Street & Corbett
133 Lowther Avenue, Toronto, Ontario, M5R 1E4

Southlake Regional Health Centre
596 Davis Drive, Newmarket
Phone: (905) 895-4521

York Central Hospital
10 Trench, Richmond Hill
Phone: (905) 883-1212

Markham Stouffville Hospital
381 Church, Markham
Phone: (905) 472-7000
Hospital for Sick Children
Phone: (416) 813-5817
Description: 24 hour paediatric medical information. Staffed by RNs & paediatric specialists.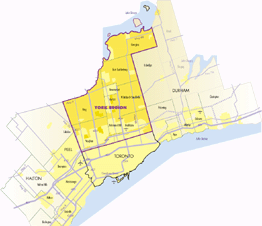 Please contact ASO York Region Chapter if you are having problems locating pediatricians, dentists, naturopaths, chiropractors etc.
Contact asoyork@axxent.ca

A notice to our readers...
The founders of BBB Autism support network and website are not physicians.
This website references books and other websites that may be of interest to the reader. The founders make no presentation or warranty with respect to the accuracy or completeness of the information contained on any of these web sites or in the books, and specifically disclaim any liability for any information contained on, or omissions from, these books or web sites. Reference to these websites or books herein shall not be construed to be an endorsement of these web sites or books or of the information contained thereon, by the founders.
We do not necessarily represent the views of the Autism Society of Ontario or any of the other agencies listed here. This website is based on parent feedback and the suggestions of individuals representing agencies and experiences.
36: August 11, 2002